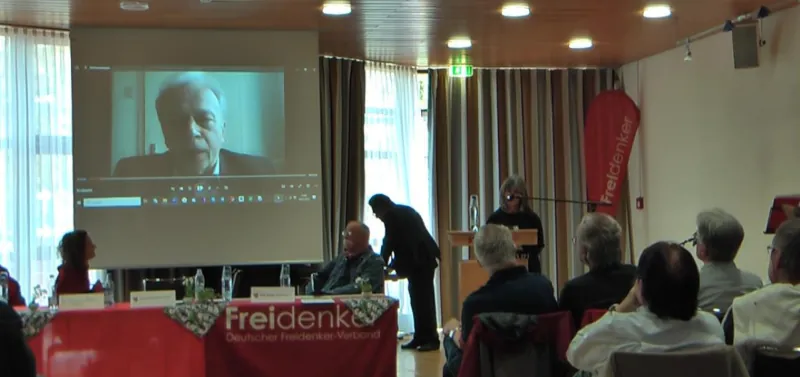 On the occasion of the 50th Congress of the World Union of Freethinkers, more than 100 people gathered in the Saalbau Bornheim in Frankfurt on 18 May to follow the panel on the topic "Free Thinking and the Multipolar World Order". Speakers illuminated the topic from various aspects. The many requests to speak from the audience showed that the event had touched on a topic that was burning under the nails.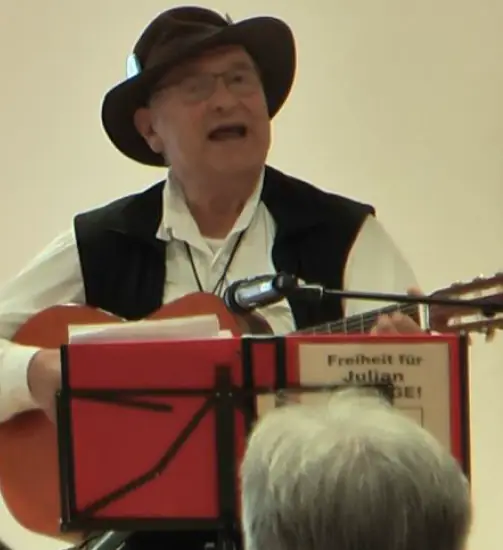 Die Sänger Ernesto Schwarz und …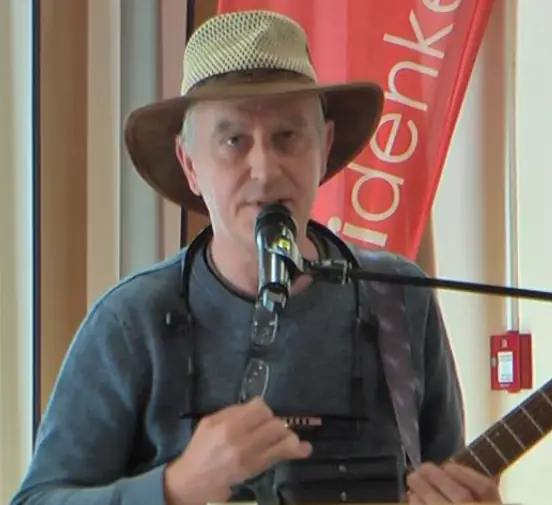 … Guy Dawson (All photos: K.-R. Landau)
The cultural contributions, which livened up the event, also attracted a lot of attention: Ernesto Schwarz with his songs against war and state of emergency accompanied by guitar, Ekaterina Frank on the piano with Russian classical music and folklore, and Guy Dawson spread a combative mood with his international peace and freedom songs.
Klaus Hartmann: "Turn of the times" between war and peace. The "turn of the times" proclaimed by the German Chancellor Scholz was the starting point of the presentation by Klaus Hartmann, President of the World Union of Freethinkers. The term marked the transition of the decades-long policy of encircling and surrounding Russia by NATO into direct war. In view of the exclusion and defamation of all those who do not follow the NATO line, the Freethinkers have an urgent task: enlightenment, enlightenment, enlightenment: "Let's approach the people!" → to the presentation by Klaus Hartmann
Vladimir Kršljanin: From the 1999 NATO aggression against Yugoslavia to the war against Russia. We must organise, fight and welcome the new world – a just, multipolar and multilateral world based on international law, equality, cooperation, social justice and true democracy, as the community of destiny of humanity. → to the speech by Vladimir Kršljanin
(The other speeches will be published here soon)